Lexus LM raises the bar of practicality for upcoming minivans
Undoubtedly, minivans are the top-pick for drivers and consumers who want to drive practically across different destinations in a city. Apart from their spacious size, minivans manage to impress the zealots of practicality with their resourceful features and upgraded designs.
Following the footsteps of convenient minivan models, Lexus has stepped up by launching its flagship luxury MPV, the Lexus LM. This boldly styled minivan can either serve as your private limousine or your vehicle of choice for conducting professional business.
The minivan was first debuted in 2019's Shanghai Autoshow and it has been creating waves in the world of automakers and zealots ever since.
Lexus LM Minivan Exterior – Posh and Bold:
If you think that minivans are supposed to look like bland, boxed vehicles, it is time to change your perspective. Witness the true wild style of the Toyota Lexus LM featuring a magnanimous spindle grille.
What sets this grille apart from the mainstream minivan front design is the abundance of chrome accents which heightens the muscular curves and blunt lines which run across the minivan's sculpted body.
At a glance, the rear also reveals a sleek effect, particularly because of increased chrome accents and robust build.
Read also: Luxury SUV DS7 By Citroen
Lexus LM Minivan Interior – Professional and practical:
The interior of Lexus LM minivan is perhaps going to be the highlight of your day. Featuring a seven-seat layout, the minivan has two bucket seats nestled in the front while three seats are attached in the rear.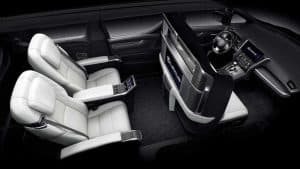 This unique layout indicates the automaker's emphasis on practicality, which comes in handy when the matter of carrying family and coworkers is in question.
But that's not it as the Lexus LM is laden with a variety of interior goodies. The Lexus LM minivan interior features a big 26-inch screen, retro-styles analog clock, glass partition for privacy, 14-inch mini-fridge space, nine-speaker system, and umbrella storage.
Lexus LM Minivan Safety – Upgraded suspension:
Driving Lexus LM is butter smooth on the road owing to the vehicle's upgraded suspension technology.
Bid farewell to the hassle of driving on bumpy roads as the suspension system used in this minivan is essentially derived from the ES Sedan minivan. The swing-valve shock absorbers perfectly do the job for you when you are on the go.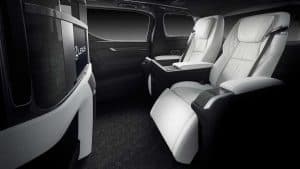 Lexus LM Minivan Performance – Choice of engine:
Lexus has decided to add a stroke of personalization for its customers by introducing a choice of engine lineup and drive type for the minivan. Speaking of engine choices, drivers can either choose the LM 300h which has an electrified, four cylinders, 2.5-liter engine or the LM 350 featuring a 3.5-liter petrol engine.
As far as wheel drive is concerned, the consumers can pick from an all-wheel-drive or front-wheel-drive only. You can also choose from black and white color options.
Read also: Peugeot e-Legend Car Review
Lexus LM Minivan Pricing:
Although the Lexus LM pricing is not revealed yet, the automaker has already announced the launch of Lexus LM in the Asian and Chinese markets later in 2019.
Subscribe to our Tua Pui Says Youtube Channel to stay updated of our videos for food, cars, and leisure.