Citroen is back with a banging new DS7 Crossback
Buyers in the premium SUV market are majorly impressed by Citroen's yet another profound launch, the DS7 Crossback. At a glance, the compact SUV is an emblem of upgraded luxury, which is heightened in its premium features.
Although there are some major, minor issues with the nuances of the updated design, it will be wrong not to appreciate the auto-makers attempt at uniqueness.
The car embodies quirkiness, sophistication, advancement and statement-making style which are promised to turn heads wherever you take this car.
Apart from being the first in-house SUV of the newbie French brand, the automakers have already labeled it as the forerunner of a soon-to-be-launched line of six different vehicle models, including an electric-hybrid model.
( You might also be interested in Peugeot e-Legend Car Review )
Here is what makes DS7 Crossback a special addition in Citroen's vehicle lineup:
Citroen DS7 Crossback Performance line- Powerful Engine:
The new automaker doesn't seem to stay behind any of the leading automakers considering an intimidating engine lineup it has introduced in the DS7 Crossback.
Despite its luxury nature, the SUV is best ridden with a 222bhp PureTech petrol engine capable of generating a clambering top speed of 145 mph.
Citroen has placed special emphasis on conforming to the exhaust emission standards by introducing the Euro 6 compliant engine.
You can choose from a petrol and diesel engine DS7 Crossback configurations depending upon your needs available for the DS7 performance lineup.
As far as driver-convenience is concerned, the DS7 Crossback features an automatic 8-speed transmission system which is an assurance of smooth driving.
The Stop and Start technology enables maximum fuel efficiency so that the drivers can make the most of this luxury SUV without spending too much on fuel.
Overall, we have some major tweaks in engine performance and gearbox, all of which seem to be aimed towards forcing the buyers to fish money out of their pockets to get their hands on this luxurious masterpiece.
Citroen DS7 Crossback Exterior – Sophisticated luxury:
For the comrades of class, the DS7 Crossback is nothing less than a laureate of sophisticated luxury. One cannot help but delve into its sensual charisma which is further complemented by its muscular build.
Gracefully contrasting lines, sculpted shape, and labyrinthine aesthetics, the DS7 Crossback stands out from the crowd in every regard.
Perhaps, the DS wings are the most distinguishing feature of the Citroen DS7 Crossback. The aluminum alloy wheelbase is carved in the mold of dynamism and heightens the grandeur of the DS wings.
Driving with DS7 Crossback at night is a breeze with its Active LED Vision control.
For the luxury-driven, the DS7 Crossback exudes a potent amalgamation of subtle details which not only increase the extent of personalization for the owner but also add an element of sophistication to the car instantly.
A look at the front reveals an extended grille which is augmented with pristine headlights and a muscular fascia. The most exciting part is that the DS7 Crossback exterior can be customized by choosing from a nine color palette and five different alloy wheelbases.
Citroen DS7 Crossback Interior – Inspiring: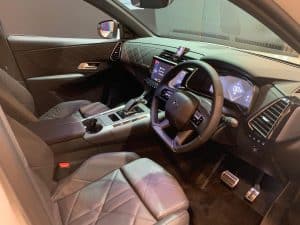 DS7 Crossback interior hits the bar of innovation in every aspect. Since the vehicle is a luxury SUV, the automaker has paid attention to every small detail which can mint money for the automakers by increasing sales.
Of course, Citroen has to take a dirtier detour to fulfill the manufacturing demands of its upcoming car models.
There is no surprise in the fact that the DS7 Crossback interior does justice to fulfilling Citroen's philosophy of personalization. Currently, the DS7 Crossback trims have four different concepts which you can choose depending upon your taste.
On the one hand, the DS looks like an impeccable commitment of personalization. On the other hand, the DS7 Crossback interior is enveloped in excellence.
The driver-oriented cockpit design is completely focused on making driving much easier, considering the controls are fastened close to the steering.
For music lovers, the DS7 Crossback interior begins to shake with blasting volumes – courtesy of HiFi Focal Electra 14 speaker set.
Speaking of tech-specs, the DS7 Crossback has a DS Connected Pilot and a Night vision mode. 12 inch HD touch screen featuring crustal control and features like comfort controls, mirror screen, and media connectivity adds the cherry on the top.
Citroen DS7 Crossback Safety – Wholesome:
Citroen has paid equal attention to driver's safety as it does to the car make. We have a lineup of DS safety features including:
● DS Night vision mode to help you see better at night by focusing on the road and identifying potential hazards
● DS Driver Attention Monitoring system helps you stay alert by detecting any decrease in concentration via IR radiation.
● DS Active LED Vision enables you to see the cars and leave an impression owing to swiveling LED modules and LED the main projector.
● DS ACTIVE SCAN SUSPENSION for a smooth and quick reaction against bumpy roads to offer comfortable driving
Read also:  Lexus Luxury Minivan 2020 Car Review
Citroen DS7 Crossback Pricing:
The Citroen DS7 Crossback has already launched in the market for the consumers with a starting price tag £ 31,175.
For such a reasonable DS7 Crossback price, the French automaker has undoubtedly raised the bar of affordability for leading luxury SUV makers.
For our Singapore market, we have 3 variants of the 1.6 turbocharged petrol engine version at the following prices.
1.6 Performance Line 180PS – $159,999
1.6 Grand Chic 180PS – $169,999
1.6 Grand Chic 225 PS – $189,999
Visit SGCarMart or DS Singapore website for a full detailed of the price and specifications available.
Follow @TuaPuiSays on Facebook and Instagram for more food news, car reviews and travel highlights.