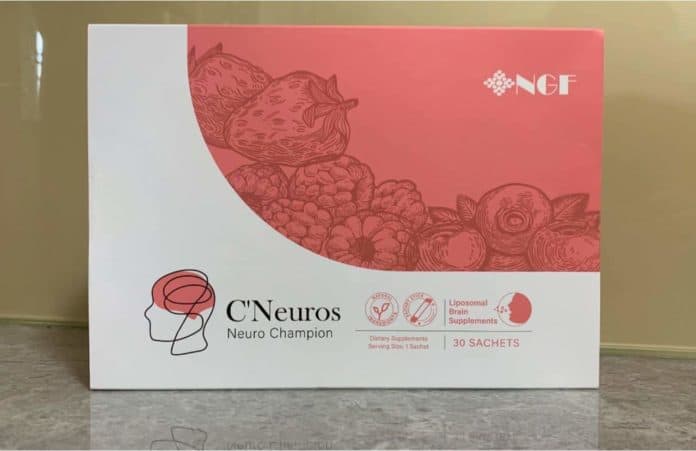 We lived in a kind of stressful environment in Singapore, it is tough to focus between work and family too.
Our children might also find it stressful and difficult in their studies too.
We might also be forgetful at times especially during work or studies as well. At times, it makes us wonder is there anything that can boost our brain health to improve our ability to focus and memory.
Well, why not pamper your brain health with the all-new C'Neuros.
C'Neuros is a proprietary liposomal brain supplement formulated by NGF Bioenterprise that is rich in C3G – A potent neuroprotective compound and coupled with smart delivery technology for better absorption of C3G at the gut & brain level to truly nourish and protect brain cells.
The benefits of C3G include cardio-protective, anti-cancer, antioxidant, anti-diabetic, neuroprotective, and anti-inflammatory which is important for us!
As C'Neuros helps to support various brain functions such as Focus, Memory, and Cognition, it is suitable for our family of all ages including children and students for optimal brain development.
C'Neuros also helps to remove neurotoxins and reduce neurodegeneration and neuronal cell damage, which will boost the brainpower of us working adults with mind-intensive work and maintain good brain health for our elderly parents.
This is definitely a well-rounded supplement that we will be able to share and ensure healthy brain development and functions for the whole family.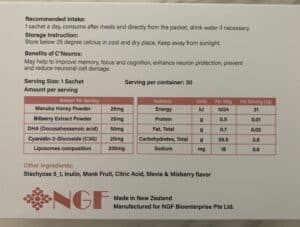 Some of the active ingredients in C'Neuros include manuka honey powder, DHA, and bilberry extract which are essential for brain development and is great for all ages.
You can consume 1 sachet a day after meals either from the packet directly or drink water if necessary.
C'Neuros is having a pre-launch promotion for this Christmas season:
Usual price: S$138
Pre-launch price: S$89 per box
6 boxes plus 1 FREE at S$534
What are you waiting for?
If you like to purchase it for yourself or your loved ones, visit their C'Neuros website.
About NGF Bioenterprise
NGF Bioenterprise is a Singapore registered company centred around its proprietary biotechnologies and Intellectual Properties (IPs) on nerve-related biomedicine, pioneering personalized-neuron platforms using induced pluripotent stem cells (iPSC) to identify the most efficacious targets and potent neuroactive compounds for preventive neuro medicine and nanotheranostics.