A new Japanese cafe for egg lovers in Singapore, let's explore what Tamago-EN is offering in their menu…
Do you love to eat eggs?
Have you heard of a new cafe in NEX shopping center at Serangoon that specialize in egg dishes?
They sell everything about eggs ranging from omelet skewers to even the Japanese traditional rice with raw egg.
About Tamago-EN
Tamago-EN has taken over the previous store location of Pablo Cheese Tart in NEX Shopping Center.
Tamago-EN only uses the freshest eggs that are specially imported directly from Okinawa for their egg dishes. Their Tamago Kake Gohan or TKG, in short, is traditionally eaten by mixing a raw egg with white rice.
All of their eggs have to go through a process of UV sanitization in order to ensure that it has the highest food safety standards so that they can be eaten raw.
Tamago-EN Menu
Tamago-EN had priced their dishes ranging from around S$10 to S$17. Let's take a look at some of their awesome dishes on the menu.
Hashimaki with Cheese and Mentaiko
This is a popular dish is at a food festival that is basically okonomiyaki which is also known as a savory pancake on chopsticks. It is priced at S$4.80/pcs
5 Kind Japanese Omelet Skewer
The omelets are priced at S$8.80 and come with toppings such as tomato sauce, seaweed paste, salmon flake, crab meat and more.
Beef Stew Rice With Omelet
If you are someone who loves to eat rice, you got to try their Omu Rice menu which uses steamed butter rice. The beef stew rice with omelet is one of Tamago-EN recommended dishes at S$16.80.
If you are someone who doesn't take beef, you can try their Mentaiko Salmon Cream Rice with Omelet at S$15.80
Caramel Peach Souffle Pancake
If you are someone who loves desserts, you can try the Caramel Peach Souffle Pancake at S$12.80. They also have Banana Chocolate Souffle Pancake at S$11.80.
Ultimate Egg Rice
Now let us talk about the ultimate star among the dishes from Tamago-EN, the Ultimate Egg Rice.
The Ultimate Egg Rice is also known as Tamago Kaki Gohan, it is a traditional breakfast in Japan. It is traditionally eaten by mixing a raw egg with white rice.
Tamago Kaki Gohan is a popular choice for the diners in Singapore, you can eat it by whipping the egg white into a fluffy cloud look alike and add your favorite topping to it.
The price starts from $5.80 for the basic Tamago Kaki Gohan and by topping up a few dollars, you can add your favorite ingredients such as salmon, minced raw tuna or teriyaki chicken to make your Ultimate Egg Rice.
You can refer to the list below for the price of the topping.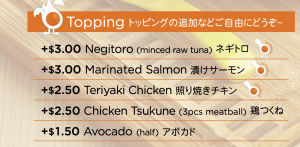 Location
NEX
23 Serangoon Central, #02-K05/06
Singapore 556083
Have great food to recommend? Share with us by contacting us here.
Remember to follow @TuaPuiSays on Facebook and Instagram for more food news, car reviews and travel highlights.