Katong Sin Chew Confectionery, An Old School Bakery Hidden At Bedok That Serves Tasty Curry Buns
It was a normal Sunday afternoon right after our regular basketball group gathering around Chai Chee area and all of us were deciding where to have lunch.
We decided to head over to Boon Keng Fish Soup at Bedok North (look out for the fish soup review soon) for our lunch.
While reaching the coffee shop, we pass by a quiet bakery shop that is just beside the coffee shop and one of our basketball kakis recommended us to try this old school bakery. He mentioned that we die die must try their curry buns which is one of the best in town and highly addictive.

About Katong Sin Chew Confectionery
Katong Sin Chew confectionery was established in 1962 by Mr. Foo Chee Kio, along East Coast Road and later moved to the current location around 1978.
Their bread is made with real butter and natural ingredients. Their curry buns, banana cake, buttercream cakes, and other old school confectionery are well-loved and known by the locals.
Hotdog Bun And Donut Review
We proceeded to get the curry buns right after our fish soup and was told that the buns will be ready around 1245 pm. As such, a few of us decided to try the hotdog buns and donuts while waiting for the curry bun.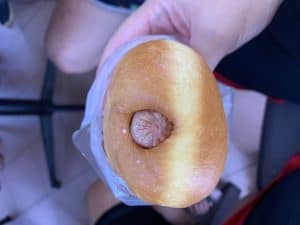 The hotdog bun was great, the texture is soft and it feels like there are multiple layers when you eat it. The hotdog seems to have been fried a bit before they combine it with the dough. You can feel the light fragrance of butter when you bite the hotdog.
Our friend describes peeling the hotdog bun bits by bits to eat is like going back to childhood times when we are opening our present.
The donut looks thick but once you bite it, you feel that it is soft and smooth. It is also one of their best seller in the shop.
Time For Curry Buns
At 1245 pm, we decided to head back to the bakery shop and check whether the curry buns are ready. We managed to get a few for our group to try it.
The bun was soft and look fluffy. It was warm as it's just freshly baked. Although it does not look tempting as other confectionery, the texture of the bun was soft when you bite it. You can feel a light buttery flavor and goes well together with the curry.
All of us agreed that it was one of the best curry buns we had tasted and it is really addictive.
Crazy Shopping To Buy Buns And Pastries
Before we left, we decided to get some buns back for our family members to try. We were surprised that the quiet shop earlier on is now packed with customers queuing up and buying their buns and cakes.
This was the first time that we saw a confectionery shop so packed and they were buying 4 to 6 buns at a go when the buns were brought out by the staffs.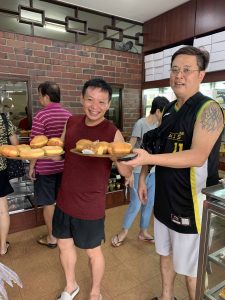 We ended up joining the crowd and this was our first time spending more than $50 dollars to buy buns and other pastries.
Timing To Avoid Disappointment
In order to avoid disappointment, we have listed down the timing of the different types of buns that will be ready.
Around 11 am – Muffins and Custard Cream Puffs
Around 1245 pm – Hotdog Buns, Curry Buns, Coconut Buns, etc
Around 115 pm – Banana Cake
Around 4 pm – Corn Bread, Raisin Bread
Around 5 pm – French Loaves
Around 6 pm – Butter Cake, Fruit Cake, etc
Location
416 Bedok North Ave 2
Singapore 460416
Remember to follow us by like and share our Facebook Page and Instagram.
Have great food or a place to recommend? Share with us by contacting us here.